---
---
We don't like their sound, and guitar music is on the way out.
- Decca Recording Co. rejecting the Beatles, 1962
Today is Friday - September 4th, 2015
On This Day In History: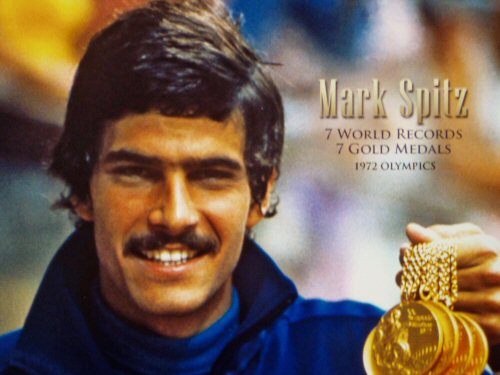 1972 - Mark Spitz Wins 7th Gold Medal

U.S. swimmer Mark Spitz wins his seventh gold medal at the 1972 Summer Olympics in Munich. Spitz swam the fly leg of the 400-meter medley relay, and his team set a new world-record time of 3 minutes, 48.16 seconds. Remarkably, Spitz also established new world records in the six other events in which he won the gold. No other athlete has won so many gold medals at a single Olympiad.

Mark Spitz was born in Modesto, California, in 1950. He began receiving instruction in competitive swimming at age six, and by age 10 he held 17 national age-group records and one world age-group record. When he was 14, his family moved to Santa Clara so Spitz could train with George Haines of the celebrated Santa Clara Swim Club. At age 16, he won his first of 24 Amateur Athletic Union championships and at 17 took home five gold medals at the Pan-American Games in Winnipeg, Canada.

Having set 10 world records by the time of the 1968 Summer Olympics, the 18-year-old Spitz brazenly predicted that he would take home six gold medals from the Mexico City Olympic Games. Actually, he won just two gold medals, both in team relay events, and took home a silver in the 100-meter butterfly and a bronze in the 100-meter freestyle. Humbled, he went to Indiana University in Bloomington to train under Doc Counsilman and prepare for the next Olympics. At Indiana, he won eight individual National Collegiate Athletic Association (NCAA) titles and was named World Swimmer of the Year in 1969 and 1971. By the time he graduated in 1972, he was ready for the XX Olympiad in Munich, West Germany.

Spitz was expected to dominate at Munich, but the 22-year-old star had learned his lesson in Mexico City and made no predictions. His actions spoke loudly enough. On August 28, his spectacular victory march began with an easy victory in the 200-meter butterfly. The butterfly was his signature stroke, and he set a new world record of 2 min. 0.70 sec. That same night, he won his second gold as a member of the U.S. 400-meter freestyle relay. He swam the anchor leg, and his team finished in a world record 3 min. 36.42 sec. The next day, he won his third gold medal, with a world record time of 1 min. 52.78 sec. in the 200-meter freestyle.

He swam the 100-meter butterfly in 54.27 sec. to earn a world record and his fourth gold medal, and then anchored the 800-meter freestyle relay team to victory for another gold medal and world record. He considered pulling out of the 100-meter freestyle out of fears he would be bested by teammate Jerry Heidenreich but then went ahead with the race, finishing a half-stroke ahead of Heidenreich in a world record 51:22 sec. He had won his sixth gold medal, surpassing the medal record held by Italian fencer Nedo Nadi, who had won five gold medals at the 1920 Olympics in Antwerp, Belgium.

The capstone of his gold medal sweep came on September 4, when his 400-meter medley relay team won the gold. After the victory, Spitz's teammates lifted him on their shoulders and carried him around the pool in a victory lap. He had given a perfect performance that may never be repeated: seven events, seven gold medals, seven world records.

Before Spitz's great achievement could fully sink in, however, tragedy stuck at dawn on September 5 when Palestinian terrorists attacked the Israeli quarters in the Olympic village, killing an Israeli coach and wrestler and taking nine other Israeli team members hostage. Spitz, who is Jewish, was put under armed guard and then flown from Munich to London out of fear he might become a target. The nine Israeli hostages were eventually killed.

Spitz received a hero's welcome in the United States and with his good looks was hailed as a sex symbol. He made a fortune from endorsements contracts, but a hoped-for movie career failed to pan out. He lost his amateur status and rarely swam in competition after 1972. In 1992, at age 42, he launched a comeback bid but failed to qualify for the Barcelona Olympics. He was inducted into the International Swimming Hall of Fame in 1977 and was a member of the first class of inductees into the United States Olympic Hall of Fame in 1983.


Celebrating Birthdays Today:
What Happened on Your Special Day?
I became a fan of "today in history" information when I was very young. My father had a calendar that he had put together of "reasons to celebrate". If anybody asked "what are we celebrating?" my father could check his book and come up with a reason to celebrate for any day of the year. Charlie Chaplin's birthday, Buster Keaton's birthday, the anniversary of the opening of the Golden Gate Bridge, for every day of the year, my father's calendar had some interesting historical event that had occurred.
With this page I have tried to continue the tradition. Generally, I prefer to include birthdays and anniversaries of positive, uplifting, life affirming people and events that have had particular significance in my life. It's here because it was important to me.
I am trying to continually update with links from stories to other relevant sites. Check back regularly for a story on something interesting that happened on this day in history.
There are many, many, sites out there that have a lot of "this day in history" information. Many are not so great, full of inaccurate information and "negative vibes". However, there are a few that are really fabulous. Here are links to a few of my favorites. These sites feature "Today in History" stories for today, and some include archives that will enable you to look up information for any other date in history that is special to you:
This Day in History
The History Channel tells you what happened in Automotive, Civil War, Cold War, Crime, Entertainment, General Interest, Literary, Old West, Vietnam War, Wall Street, and World War II history for today or any day.

Life Magazine Covers
Life offers a look at covers from this day in history.

New York Times: On This Day
Lists events which occurred on each month and day of the year throughout history. Links to New York Times articles on the events when available.

Today in History
Stories and pictures from the American Memory historical collections of the U.S. Library of Congress.

The Internet Movie Database
The Internet Movie Database claims itself to be the biggest, best, most award-winning movie site on the planet. I'm not sure if it really is, but it is huge and has TONS of info on even the most obscure films, movies stars, directors, producers, etc. If it is motion picture related, you can probably find out something about it at this site.

PBS | History
The PBS web site is a comprehensive companion to more than 1,300 PBS television programs and specials, as well as original Web content and real-time learning adventures. The site does not have a specific "Day in History" feature, but with more than 175,000 pages of historical and educational content, visitors can delve deeply into the subjects they most enjoy — history and news to arts, science, and technology.

Those Were the Days
The "Today in History" feature from 440 International. Those Were the Days is a daily series of historic events that occured on each specific day. Each day contains events covering news, sports, entertainment, inventions, personalities, organizations, literature, etc. The years covered in these events span time from as far back as the 1700s (earlier when data is available) with primary concentration between 1900 and and 1990.