---
---
Abstract art is a product of the untalented, sold by the unprincipled to the utterly bewildered.
- Al Capp (1909-1979)
Today is Monday - October 20th, 2014
On This Day In History: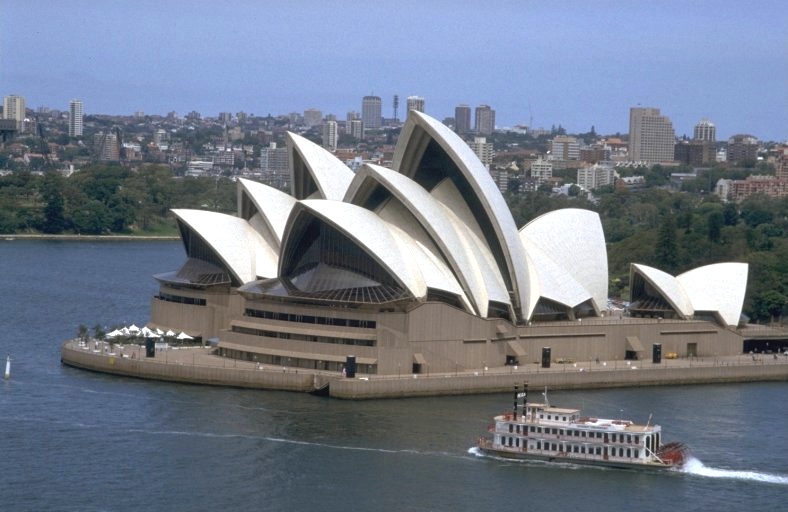 1973 - Sydney Opera House

After 15 years of construction at a cost of $80 million, the Sydney Opera House opened on this day in 1973 in a dedication ceremony presided over by Queen Elizabeth II.

Sydney Opera House must be one of the most recognizable images of the modern world - up there with the Eiffel Tower and the Empire State Building - and one of the most photographed.

Although only having been open since 1973, it is as representative of Australia as the pyramids are of Egypt and the Coliseum of Rome.

The Opera House is situated on Bennelong Point, which reaches out into the harbor. The skyline of the Sydney Harbor Bridge, the blue water of the harbor and the Sydney Opera House, viewed from a ferry or from the air, is dramatic and unforgettable.

Ironic, perhaps, that this Australian icon - the Opera House with a roof evocative of a ship at full sail - was designed by renowned Danish architect - Jorn Utzon.

In the late 1950s the New South Wales (NSW) Government established an appeal fund to finance the construction of the Sydney Opera House, and conducted a competition for its design.

Utzon's design was chosen. The irony was that his design was, arguably, beyond the capabilities of engineering of the time. Utzon spent a couple of years reworking the design and it was 1961 before he had solved the problem of how to build the distinguishing feature - the 'sails' of the roof.

The venture experienced cost blow-outs and there were occasions when the NSW Government was tempted to call a halt. In 1966 the situation - with arguments about cost and the interior design, and the Government withholding progress payments - reached crisis point and Jorn Utzon resigned from the project. The building was eventually completed by others in 1973.

After more than 30 years, the Sydney Opera House now has its first interior designed by Utzon. The Utzon Room, a transformed reception hall that brings to life Jorn Utzon's original vision for his masterpiece, was officially opened on September 16 2004.


Celebrating Birthdays Today:
What Happened on Your Special Day?
I became a fan of "today in history" information when I was very young. My father had a calendar that he had put together of "reasons to celebrate". If anybody asked "what are we celebrating?" my father could check his book and come up with a reason to celebrate for any day of the year. Charlie Chaplin's birthday, Buster Keaton's birthday, the anniversary of the opening of the Golden Gate Bridge, for every day of the year, my father's calendar had some interesting historical event that had occurred.
With this page I have tried to continue the tradition. Generally, I prefer to include birthdays and anniversaries of positive, uplifting, life affirming people and events that have had particular significance in my life. It's here because it was important to me.
I am trying to continually update with links from stories to other relevant sites. Check back regularly for a story on something interesting that happened on this day in history.
There are many, many, sites out there that have a lot of "this day in history" information. Many are not so great, full of inaccurate information and "negative vibes". However, there are a few that are really fabulous. Here are links to a few of my favorites. These sites feature "Today in History" stories for today, and some include archives that will enable you to look up information for any other date in history that is special to you:
This Day in History
The History Channel tells you what happened in Automotive, Civil War, Cold War, Crime, Entertainment, General Interest, Literary, Old West, Vietnam War, Wall Street, and World War II history for today or any day.

Life Magazine Covers
Life offers a look at covers from this day in history.

New York Times: On This Day
Lists events which occurred on each month and day of the year throughout history. Links to New York Times articles on the events when available.

Today in History
Stories and pictures from the American Memory historical collections of the U.S. Library of Congress.

The Internet Movie Database
The Internet Movie Database claims itself to be the biggest, best, most award-winning movie site on the planet. I'm not sure if it really is, but it is huge and has TONS of info on even the most obscure films, movies stars, directors, producers, etc. If it is motion picture related, you can probably find out something about it at this site.

PBS | History
The PBS web site is a comprehensive companion to more than 1,300 PBS television programs and specials, as well as original Web content and real-time learning adventures. The site does not have a specific "Day in History" feature, but with more than 175,000 pages of historical and educational content, visitors can delve deeply into the subjects they most enjoy — history and news to arts, science, and technology.

Those Were the Days
The "Today in History" feature from 440 International. Those Were the Days is a daily series of historic events that occured on each specific day. Each day contains events covering news, sports, entertainment, inventions, personalities, organizations, literature, etc. The years covered in these events span time from as far back as the 1700s (earlier when data is available) with primary concentration between 1900 and and 1990.