---
---
Brain: an apparatus with which we think we think.
- Ambrose Bierce (1842-1914)
Today is Friday - July 1st, 2016
On This Day In History: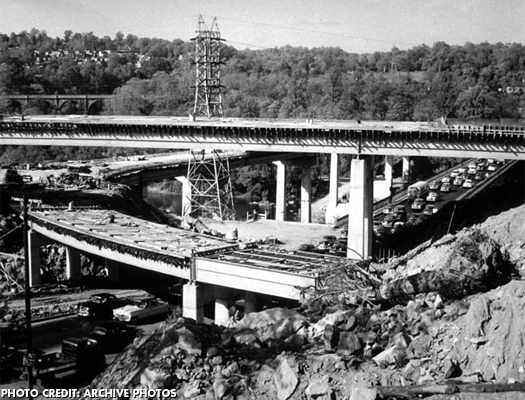 1956 - Ike's Interstates

The Highway Revenue Act of 1956 was put into effect by Congress, outlining a policy of taxation with the aim of creating a fund for the construction of over 42,500 miles of interstate highways over a period of 13 years.

The push for a national highway system began many years earlier, when the privately funded construction of the Lincoln Highway begun in 1919. President Franklin D. Roosevelt (1933-1945) did much to set into motion plans for a federally funded highway system, but his efforts were halted by the outbreak of World War II. With the end of the war came America's industrial boom and a massive increase in automobile registration.

Dwight D. Eisenhower, elected president in 1952, had been a supporter of a federally funded highway system ever since, as an Army Lieutenant in 1919, he led a military convoy from San Francisco to New York. His travels through Germany during World War II only increased his desire to replicate Germany's autobahn system. Eisenhower's 1954 State of the Union address made clear his intentions to follow through on his interest. He declared the need to "protect the vital interests of every citizen in a safe, adequate highway system."

It wasn't until 1956 that Eisenhower saw his vision pass through Congress. The scale of the plan was breathtaking: At a time when the total federal budget approached $71 billion, Eisenhower's plan called for $50 billion over 13 years for highways. To pay for the project a system of taxes, relying heavily on the taxation of gasoline, was implemented. Legislation has extended the Interstate Highway Revenue Act three times.

Today consumers pay 18.3 cents per gallon on gasoline. Eisenhower thought of the Federal Interstate System as his greatest achievement. Today, revisionists question the solutions offered by our massive labyrinth of highways. Undoubtedly the interstate system changed America and made it what it is today, with suburbs and "edge cities" springing up across the country. Employment increased, as well as the U.S. gross national product. Still, both state and federal governments struggle to appropriate the funds to expand our national road network and meet the demand of the ever-growing population of car owners.

Many economists subscribe to Helen Levitt's theory that "congestion rises to meet road capacity," and anti-road activists are citing the loss of productive farmland, the demise of small business, the destruction of the environment, and the "urbanization" of American society. Truly, the grass is always greener on the other side of the highway.


Celebrating Birthdays Today:
What Happened on Your Special Day?
I became a fan of "today in history" information when I was very young. My father had a calendar that he had put together of "reasons to celebrate". If anybody asked "what are we celebrating?" my father could check his book and come up with a reason to celebrate for any day of the year. Charlie Chaplin's birthday, Buster Keaton's birthday, the anniversary of the opening of the Golden Gate Bridge, for every day of the year, my father's calendar had some interesting historical event that had occurred.
With this page I have tried to continue the tradition. Generally, I prefer to include birthdays and anniversaries of positive, uplifting, life affirming people and events that have had particular significance in my life. It's here because it was important to me.
I am trying to continually update with links from stories to other relevant sites. Check back regularly for a story on something interesting that happened on this day in history.
There are many, many, sites out there that have a lot of "this day in history" information. Many are not so great, full of inaccurate information and "negative vibes". However, there are a few that are really fabulous. Here are links to a few of my favorites. These sites feature "Today in History" stories for today, and some include archives that will enable you to look up information for any other date in history that is special to you:
This Day in History
The History Channel tells you what happened in Automotive, Civil War, Cold War, Crime, Entertainment, General Interest, Literary, Old West, Vietnam War, Wall Street, and World War II history for today or any day.

Life Magazine Covers
Life offers a look at covers from this day in history.

New York Times: On This Day
Lists events which occurred on each month and day of the year throughout history. Links to New York Times articles on the events when available.

Today in History
Stories and pictures from the American Memory historical collections of the U.S. Library of Congress.

The Internet Movie Database
The Internet Movie Database claims itself to be the biggest, best, most award-winning movie site on the planet. I'm not sure if it really is, but it is huge and has TONS of info on even the most obscure films, movies stars, directors, producers, etc. If it is motion picture related, you can probably find out something about it at this site.