---
---
The only thing that saves us from the bureaucracy is inefficiency. An efficient bureaucracy is the greatest threat to liberty.
- Eugene McCarthy
Today is Wednesday - May 25th, 2016
On This Day In History: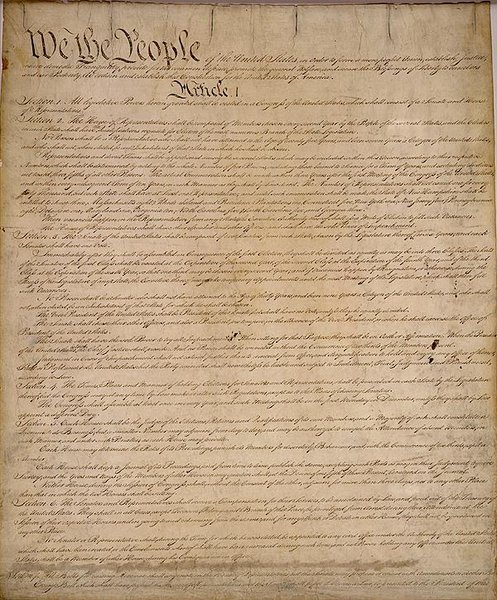 1787 - Constitutional Convention Begins

Four years after the United States won its independence from England, 55 state delegates, including George Washington, James Madison, and Benjamin Franklin, convene in Philadelphia to compose a new U.S. constitution.

The Articles of Confederation, ratified several months before the British surrender at Yorktown in 1781, provided for a loose confederation of U.S. states, which were sovereign in most of their affairs. On paper, Congress--the central authority--had the power to govern foreign affairs, conduct war, and regulate currency, but in practice these powers were sharply limited because Congress was given no authority to enforce its requests to the states for money or troops. By 1786, it was apparent that the Union would soon break up if the Articles of Confederation were not amended or replaced. Five states met in Annapolis, Maryland, to discuss the issue, and all the states were invited to send delegates to a new constitutional convention to be held in Philadelphia.

On May 25, 1787, delegates representing every state except Rhode Island convened at Philadelphia's Pennsylvania State House for the Constitutional Convention. The building, which is now known as Independence Hall, had earlier seen the drafting of the Declaration of Independence and the signing of the Articles of Confederation. The assembly immediately discarded the idea of amending the Articles of Confederation and set about drawing up a new scheme of government. Revolutionary War hero George Washington, a delegate from Virginia, was elected convention president.

During three months of debate, the delegates devised a brilliant federal system characterized by an intricate system of checks and balances. The convention was divided over the issue of state representation in Congress, as more populated states sought proportional legislation, and smaller states wanted equal representation. The problem was resolved by the Connecticut Compromise, which proposed a bicameral legislature with proportional representation in the lower house (House of Representatives) and equal representation of the states in the upper house (Senate).

On September 17, 1787, the Constitution of the United States of America was signed by 38 of the 41 delegates present at the conclusion of the convention. As dictated by Article VII, the document would not become binding until it was ratified by nine of the 13 states.

Beginning on December 7, five states--Delaware, Pennsylvania, New Jersey, Georgia, and Connecticut--ratified it in quick succession. However, other states, especially Massachusetts, opposed the document, as it failed to reserve undelegated powers to the states and lacked constitutional protection of basic political rights, such as freedom of speech, religion, and the press. In February 1788, a compromise was reached under which Massachusetts and other states would agree to ratify the document with the assurance that amendments would be immediately proposed. The Constitution was thus narrowly ratified in Massachusetts, followed by Maryland and South Carolina. On June 21, 1788, New Hampshire became the ninth state to ratify the document, and it was subsequently agreed that government under the U.S. Constitution would begin on March 4, 1789.

On September 25, 1789, the first Congress of the United States adopted 12 amendments to the U.S. Constitution--the Bill of Rights--and sent them to the states for ratification. Ten of these amendments were ratified in 1791. In November 1789, North Carolina became the 12th state to ratify the U.S. Constitution. Rhode Island, which opposed federal control of currency and was critical of compromise on the issue of slavery, resisted ratifying the Constitution until the U.S. government threatened to sever commercial relations with the state. On May 29, 1790, Rhode Island voted by two votes to ratify the document, and the last of the original 13 colonies joined the United States. Today the U.S. Constitution is the oldest written constitution in operation in the world.



1977 - "Star Wars - Episode IV - A New Hope" Opens

A long time ago, in a galaxy far, far away . . .

In Star Wars: A New Hope George Lucas, inspired by the writings of mythologist Joseph Campbell, created a myth of epic proportions for a modern age. The film follows the path of farmboy Luke Skywalker through the maze of adventures which Campbell defined as the hero's journey.

Luke's simple life if forever changed when two androids enter his life with a mysterious message for Obi Wan Kenobi. Tutored by Obi Wan, Luke must learn the mysterious ways of "The Force" and become a Jedi Knight like his father before him.

The adventure of his life unfolds as Luke must rescue the beautiful Princess Leia from the clutches of the evil Empire and ultimately save the galaxy from the tyrannical Darth Vader.


Celebrating Birthdays Today:
What Happened on Your Special Day?
I became a fan of "today in history" information when I was very young. My father had a calendar that he had put together of "reasons to celebrate". If anybody asked "what are we celebrating?" my father could check his book and come up with a reason to celebrate for any day of the year. Charlie Chaplin's birthday, Buster Keaton's birthday, the anniversary of the opening of the Golden Gate Bridge, for every day of the year, my father's calendar had some interesting historical event that had occurred.
With this page I have tried to continue the tradition. Generally, I prefer to include birthdays and anniversaries of positive, uplifting, life affirming people and events that have had particular significance in my life. It's here because it was important to me.
I am trying to continually update with links from stories to other relevant sites. Check back regularly for a story on something interesting that happened on this day in history.
There are many, many, sites out there that have a lot of "this day in history" information. Many are not so great, full of inaccurate information and "negative vibes". However, there are a few that are really fabulous. Here are links to a few of my favorites. These sites feature "Today in History" stories for today, and some include archives that will enable you to look up information for any other date in history that is special to you:
This Day in History
The History Channel tells you what happened in Automotive, Civil War, Cold War, Crime, Entertainment, General Interest, Literary, Old West, Vietnam War, Wall Street, and World War II history for today or any day.

Life Magazine Covers
Life offers a look at covers from this day in history.

New York Times: On This Day
Lists events which occurred on each month and day of the year throughout history. Links to New York Times articles on the events when available.

Today in History
Stories and pictures from the American Memory historical collections of the U.S. Library of Congress.

The Internet Movie Database
The Internet Movie Database claims itself to be the biggest, best, most award-winning movie site on the planet. I'm not sure if it really is, but it is huge and has TONS of info on even the most obscure films, movies stars, directors, producers, etc. If it is motion picture related, you can probably find out something about it at this site.