---
---
America's greatest strength, and its greatest weakness, is our belief in second chances, our belief that we can always start over, that things can be made better.
- Anthony Walton
Today is Monday - September 26th, 2016
On This Day In History: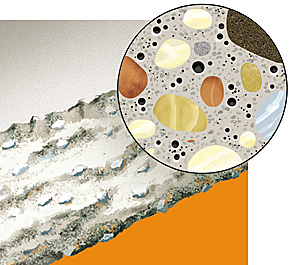 1871 - Portland Cement

U.S. patent No. 119,413 for the composition of Portland cement was issued to David Oliver Saylor, of Allentown, Pa. In 1871, Saylor tried his hand at selecting and mixing different kinds of rock from his quarries to produce Portland cement at the first US plant in Coplay, Pa. After initial difficulties, he succeeded with a mixture of magnesium clay with limestone clay. Samples shown at the 1876 Philadelphia Centennial Exhibition compared well with the best imported Portland cements. In England, William Aspdin had patented "Portland Cement," and coined the name (1852). The first recorded shipment of Portland cement to the US was in 1868, when European manufacturers began shipping cement as ballast in tramp steamers at very low freight rates.



1960 - Television Changes the face of US Politics Forever

The first nationally televised presidential debates, between Richard Nixon and John F. Kennedy, took place on this day. The debate, moderated by Howard K. Smith, reached more than 69 million people. A sweaty Nixon did not "look" good to viewers and arguably his performance here cost him the election.


Celebrating Birthdays Today:
What Happened on Your Special Day?
I became a fan of "today in history" information when I was very young. My father had a calendar that he had put together of "reasons to celebrate". If anybody asked "what are we celebrating?" my father could check his book and come up with a reason to celebrate for any day of the year. Charlie Chaplin's birthday, Buster Keaton's birthday, the anniversary of the opening of the Golden Gate Bridge, for every day of the year, my father's calendar had some interesting historical event that had occurred.
With this page I have tried to continue the tradition. Generally, I prefer to include birthdays and anniversaries of positive, uplifting, life affirming people and events that have had particular significance in my life. It's here because it was important to me.
I am trying to continually update with links from stories to other relevant sites. Check back regularly for a story on something interesting that happened on this day in history.
There are many, many, sites out there that have a lot of "this day in history" information. Many are not so great, full of inaccurate information and "negative vibes". However, there are a few that are really fabulous. Here are links to a few of my favorites. These sites feature "Today in History" stories for today, and some include archives that will enable you to look up information for any other date in history that is special to you:
This Day in History
The History Channel tells you what happened in Automotive, Civil War, Cold War, Crime, Entertainment, General Interest, Literary, Old West, Vietnam War, Wall Street, and World War II history for today or any day.

Life Magazine Covers
Life offers a look at covers from this day in history.

New York Times: On This Day
Lists events which occurred on each month and day of the year throughout history. Links to New York Times articles on the events when available.

Today in History
Stories and pictures from the American Memory historical collections of the U.S. Library of Congress.

The Internet Movie Database
The Internet Movie Database claims itself to be the biggest, best, most award-winning movie site on the planet. I'm not sure if it really is, but it is huge and has TONS of info on even the most obscure films, movies stars, directors, producers, etc. If it is motion picture related, you can probably find out something about it at this site.