---
---
Another unsettling element in modern art is that common symptom of immaturity, the dread of doing what has been done before.
- Edith Wharton (1862-1937)
Today is Thursday - June 22nd, 2017
On This Day In History: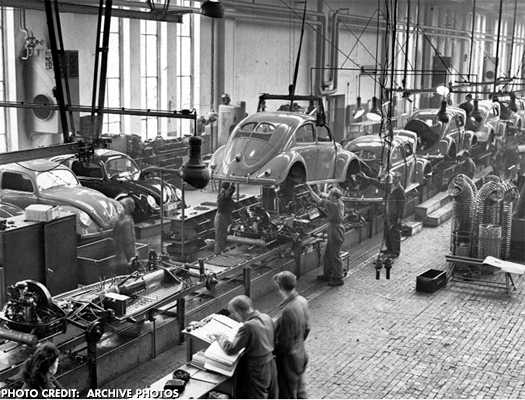 1934 - Porsche Builds V.W. Prototypes

On this day in 1934, Ferdinand Porsche contracted with the Automobile Manufacturers Association of Germany (RDA) to build three prototype "people's cars" over a 10-month period. The result, of course, was the Volkswagen, but it would take years for Porsche to accomplish his dream of actually bringing the small, affordable car to the market.

In 1899, at the age of 24, Ferdinand Porsche became one of Europe's most famous automotive engineers with the introduction of his Porsche-Lohner electric car. It was his first offering to the world, and it was characteristically ingenious. Ferdinand Porsche is the automotive world's answer to "the Natural"; his designs have always been incomprehensibly ahead of their times. At a time when all automotive designers focused all their energies on mustering speed, Porsche's car came with two separate breaking systems, one mechanical and one electric, while still supplying competitive speed. For the next 35 years Porsche would strive, often under the auspices of Daimler Motors, to produce the smallest, fastest cars in the world. So recognizable was Porsche's genius that his quest was sadly hindered by outside interference.

In 1932, while first working on the design for a "Volksauto" for Zundapp Motors in Germany, Porsche was approached by a group of Russian engineers with a remarkable offer. Having studied his work, the Russian engineers had deemed Porsche the greatest automotive engineer, and as such offered to take him back to Russia to show him the state of their country's industry. Porsche didn't know what they wanted but, flattered by the invitation, he went along. He was received like royalty, an honored guest of the state. The offer from the Russians was inconceivable: they offered him the position of state designer of Russia, a position in charge of all automobile, tank, and electric vehicle production. Every one of his designs would be realized by the country's vast sources of material wealth. All he had to do was sign a contract. Porsche respectfully declined, but such was his prowess that only two years later Adolf Hitler approached Porsche with the project of designing a people's car for the state of Germany. Because making a small, affordable car was Porsche's dream, he jumped at the offer.

The Volkswagen prototype was completed in 1936. But war in Europe erupted before production could begin. Porsche was asked to supply tank designs, which he did, creating the Tiger, Ferdinand, and Mouse tanks for the German army. Hitler moved Porsche from Stuttgart to the remote Austrian town of Gmund, in order to keep him away from Allied bombing. At the end of the war the U.S. Army captured Porsche, interrogated him, and released him to his villa in Gmund. Then French officials arrested him for his participation in the war, and Porsche served a two-year sentence at the Renault estate in France. He was finally released in 1947, and he returned to Gmund. There he undertook, with his son Ferry, the project of building a small performance car with his own name. Meanwhile, the Volkswagen had gone into mass production. The first Porsche, the 356, was a convertible sports car version of the Volkswagen with much improved suspension.


Celebrating Birthdays Today:
What Happened on Your Special Day?
I became a fan of "today in history" information when I was very young. My father had a calendar that he had put together of "reasons to celebrate". If anybody asked "what are we celebrating?" my father could check his book and come up with a reason to celebrate for any day of the year. Charlie Chaplin's birthday, Buster Keaton's birthday, the anniversary of the opening of the Golden Gate Bridge, for every day of the year, my father's calendar had some interesting historical event that had occurred.
With this page I have tried to continue the tradition. Generally, I prefer to include birthdays and anniversaries of positive, uplifting, life affirming people and events that have had particular significance in my life. It's here because it was important to me.
I am trying to continually update with links from stories to other relevant sites. Check back regularly for a story on something interesting that happened on this day in history.
There are many, many, sites out there that have a lot of "this day in history" information. Many are not so great, full of inaccurate information and "negative vibes". However, there are a few that are really fabulous. Here are links to a few of my favorites. These sites feature "Today in History" stories for today, and some include archives that will enable you to look up information for any other date in history that is special to you:
This Day in History
The History Channel tells you what happened in Automotive, Civil War, Cold War, Crime, Entertainment, General Interest, Literary, Old West, Vietnam War, Wall Street, and World War II history for today or any day.

Life Magazine Covers
Life offers a look at covers from this day in history.

New York Times: On This Day
Lists events which occurred on each month and day of the year throughout history. Links to New York Times articles on the events when available.

Today in History
Stories and pictures from the American Memory historical collections of the U.S. Library of Congress.

The Internet Movie Database
The Internet Movie Database claims itself to be the biggest, best, most award-winning movie site on the planet. I'm not sure if it really is, but it is huge and has TONS of info on even the most obscure films, movies stars, directors, producers, etc. If it is motion picture related, you can probably find out something about it at this site.