---
---
Not everything that can be counted counts, and not everything that counts can be counted.
- Albert Einstein (1879-1955)
Today is Thursday - April 27th, 2017
On This Day In History: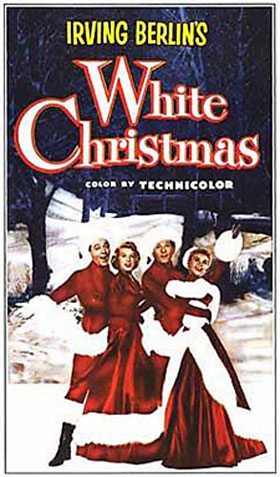 1954 - White Christmas Debuts

White Christmas, starring Bing Crosby and Danny Kaye, debuts on this day. The film, which opened at Radio City Music Hall, was Paramount's first wide-screen film, made with a process called VistaVision. Wide-screen technology had existed since the 1920s but was not pursued aggressively by Hollywood until the 1950s, when television began to compete with cinemas for viewers. The wide-screen format offered audiences an experience not available on television, and movie studios began exploiting the format.

Though designed to thwart competition from TV, the rise of the wide-screen format actually helped destabilize Hollywood's entrenched studio system. From the 1920s to the 1950s, studios were able to control costs by centralizing production. Studios kept actors, writers, and technical talent on the payroll, creating movie factories where studios could crank out dozens of features very rapidly. But the new wide-screen films were much more expensive to make, cutting into profits. At the same time, the Supreme Court ruled in 1948 that studios could no longer operate as virtual monopolies, dominating the production, distribution, and exhibition of pictures through their control of movie theater chains. This ruling also damaged profits for the studios. Companies began to make fewer movies and promote fewer stars, and the power of those stars increased as they became free agents, no longer contracted to a given studio.

Celebrating Birthdays Today:
What Happened on Your Special Day?
I became a fan of "today in history" information when I was very young. My father had a calendar that he had put together of "reasons to celebrate". If anybody asked "what are we celebrating?" my father could check his book and come up with a reason to celebrate for any day of the year. Charlie Chaplin's birthday, Buster Keaton's birthday, the anniversary of the opening of the Golden Gate Bridge, for every day of the year, my father's calendar had some interesting historical event that had occurred.
With this page I have tried to continue the tradition. Generally, I prefer to include birthdays and anniversaries of positive, uplifting, life affirming people and events that have had particular significance in my life. It's here because it was important to me.
I am trying to continually update with links from stories to other relevant sites. Check back regularly for a story on something interesting that happened on this day in history.
There are many, many, sites out there that have a lot of "this day in history" information. Many are not so great, full of inaccurate information and "negative vibes". However, there are a few that are really fabulous. Here are links to a few of my favorites. These sites feature "Today in History" stories for today, and some include archives that will enable you to look up information for any other date in history that is special to you:
This Day in History
The History Channel tells you what happened in Automotive, Civil War, Cold War, Crime, Entertainment, General Interest, Literary, Old West, Vietnam War, Wall Street, and World War II history for today or any day.

Life Magazine Covers
Life offers a look at covers from this day in history.

New York Times: On This Day
Lists events which occurred on each month and day of the year throughout history. Links to New York Times articles on the events when available.

Today in History
Stories and pictures from the American Memory historical collections of the U.S. Library of Congress.

The Internet Movie Database
The Internet Movie Database claims itself to be the biggest, best, most award-winning movie site on the planet. I'm not sure if it really is, but it is huge and has TONS of info on even the most obscure films, movies stars, directors, producers, etc. If it is motion picture related, you can probably find out something about it at this site.