---
---
If a million people say a foolish thing, it is still a foolish thing.
- Anatole France (1844-1924)
Today is Sunday - April 19th, 2015
On This Day In History: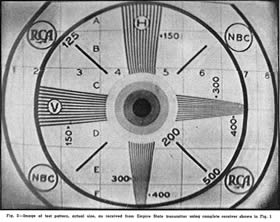 1938 - Broadcast Television in New York

RCA-NBC launched its first regular TV broadcasts on this day in 1938. The programs, broadcast from the Empire State Building, were experimental and aired only five hours a week. Very few television sets existed and there were only a handful located within the limited broadcast range at the time.

In the late 1920's and early 1930's - experimental television systems used 120 scanning lines at 24 frames per second. This produced a blurry image with visible, thick scanning lines and a noticeable amount of flicker. The number of scan lines quickly increased to 240 lines in 1933 and a great improvement was observed in 1934 when a system using 343 lines at 30 frames was introduced by RCA. Technical standards continued to improve until July 1, 1941 when the 525-line standard, still in use today, was adopted.

The first public demonstrations of television had occurred in 1936. The Germans televised the Olympic games in Berlin, the British started limited broadcasting in England, and in the United States, RCA and Philco started giving public demonstrations to the press and various radio executives.

By November 1936 there were only about forty to fifty experimental television sets in the New York area. Early public demonstrations of television were by invitation only. The three pioneer television stations were basically broadcasting to themselves.

Although popularity of the fledgling industry grew dramatically through the 1940's, World War II put the American television industry on hold. Stations were authorized to broadcast four hours of programming per week in an effort to keep the industry alive, and the industry contributed to the war effort by televising air raid drills, first aid lessons, military maneuvers, films, occasional sporting events, and live drama. The war effort brought many technological improvements to television mostly through radar and microwave developments.

The end of the war saw incredibly rapid and dramatic growth in the number of stations and new television sets around the country, a boom which lasted well into the 1950s and resulted in television becoming so intrinsically intertwined in modern American society.



1955 - American Volkswagen

Volkswagen of America, Inc. was established in Engelwood, New Jersey, as a sales division for the German car company. 1955 was a banner year for Volkswagen as the company produced its 1,000,000th car and exceeded, for the first time, the production benchmark of 1,000 cars per day on average. 1955 also saw the introduction of the Karmann Ghia Coupe, a joint venture between Volkswagen and Karmann.

The sporty Karmann Ghia enjoyed great success in the United States. It wasn't until almost a decade after the formation of Volkswagen of America, that Volkswagen provided serious competition for Detroit's Big Three. The establishment of an American sales group paved the way for the success of the VW bug in America. By the mid-1960s, the VW Bug had almost single-handedly ended the years of "virtual monopoly" that Detroit manufacturers had previously enjoyed.


Celebrating Birthdays Today:
What Happened on Your Special Day?
I became a fan of "today in history" information when I was very young. My father had a calendar that he had put together of "reasons to celebrate". If anybody asked "what are we celebrating?" my father could check his book and come up with a reason to celebrate for any day of the year. Charlie Chaplin's birthday, Buster Keaton's birthday, the anniversary of the opening of the Golden Gate Bridge, for every day of the year, my father's calendar had some interesting historical event that had occurred.
With this page I have tried to continue the tradition. Generally, I prefer to include birthdays and anniversaries of positive, uplifting, life affirming people and events that have had particular significance in my life. It's here because it was important to me.
I am trying to continually update with links from stories to other relevant sites. Check back regularly for a story on something interesting that happened on this day in history.
There are many, many, sites out there that have a lot of "this day in history" information. Many are not so great, full of inaccurate information and "negative vibes". However, there are a few that are really fabulous. Here are links to a few of my favorites. These sites feature "Today in History" stories for today, and some include archives that will enable you to look up information for any other date in history that is special to you:
This Day in History
The History Channel tells you what happened in Automotive, Civil War, Cold War, Crime, Entertainment, General Interest, Literary, Old West, Vietnam War, Wall Street, and World War II history for today or any day.

Life Magazine Covers
Life offers a look at covers from this day in history.

New York Times: On This Day
Lists events which occurred on each month and day of the year throughout history. Links to New York Times articles on the events when available.

Today in History
Stories and pictures from the American Memory historical collections of the U.S. Library of Congress.

The Internet Movie Database
The Internet Movie Database claims itself to be the biggest, best, most award-winning movie site on the planet. I'm not sure if it really is, but it is huge and has TONS of info on even the most obscure films, movies stars, directors, producers, etc. If it is motion picture related, you can probably find out something about it at this site.

PBS | History
The PBS web site is a comprehensive companion to more than 1,300 PBS television programs and specials, as well as original Web content and real-time learning adventures. The site does not have a specific "Day in History" feature, but with more than 175,000 pages of historical and educational content, visitors can delve deeply into the subjects they most enjoy — history and news to arts, science, and technology.

Those Were the Days
The "Today in History" feature from 440 International. Those Were the Days is a daily series of historic events that occured on each specific day. Each day contains events covering news, sports, entertainment, inventions, personalities, organizations, literature, etc. The years covered in these events span time from as far back as the 1700s (earlier when data is available) with primary concentration between 1900 and and 1990.