---
---
G.I. Joe Action Figure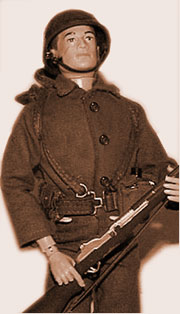 G.I. Joe was introduced by Hasbro at the American International Toy Fair in New York, February 1964. G.I. Joe was "America's Movable Fighting Man." This was new territory in imaginative play for boys - G.I. Joe was not a "doll" he was an "action figure."
Toy designer Stan Weston approached Hasbro in 1963 with the idea of a pose-able military action figure, as a tie-in to The Lieutenant, a a television series produced by Star Trek creator Gene Roddenberry. The TV series failed, but the G.I. Joe action figure was a hit.
Early popularity brought an abundance of additions to the G.I. Joe line. G.I. Joe action figures dressed as soldiers from Canada, Britain, Australia, France, and some "enemies" from Japan, Germany and Russia. 1966 saw the addition of talking G.I. Joe, a "Green Beret" set, and "Action Girl G.I. Nurse," complete with Red Cross clothing, crutches, medical equipment and a very bad hairdo.
In 1969 Hasbro began to emphasize "adventure," not battle, in the accessory sets and we were quickly sending G.I. Joe on missions of undersea rescue and into outer space. The "G.I. Joe Adventure Team" soon had "real" hair and "kung-fu grip."
I remember playing in the back yard for days with my G.I. Joe adventure team. G.I. Joe and I built great sand-castle fortresses, made reconnaissance missions to the Lincoln Log empire and rescued innocent baseballs from the clutches of the "evil" Juniper bushes. We climbed trees, dug tunnels, built bridges over the mighty creek and traveled through far-away lands by Jeep, Boat, Helicopter and Space Ship.
Much of my G.I. Joe adventure team collection became lost toys years ago. A were packed away carefully in my grandmothers garage, waiting for the next great adventures. I recently added a toy shelf in my music studio and was pleased to make room for a few of my old G.I. Joe team!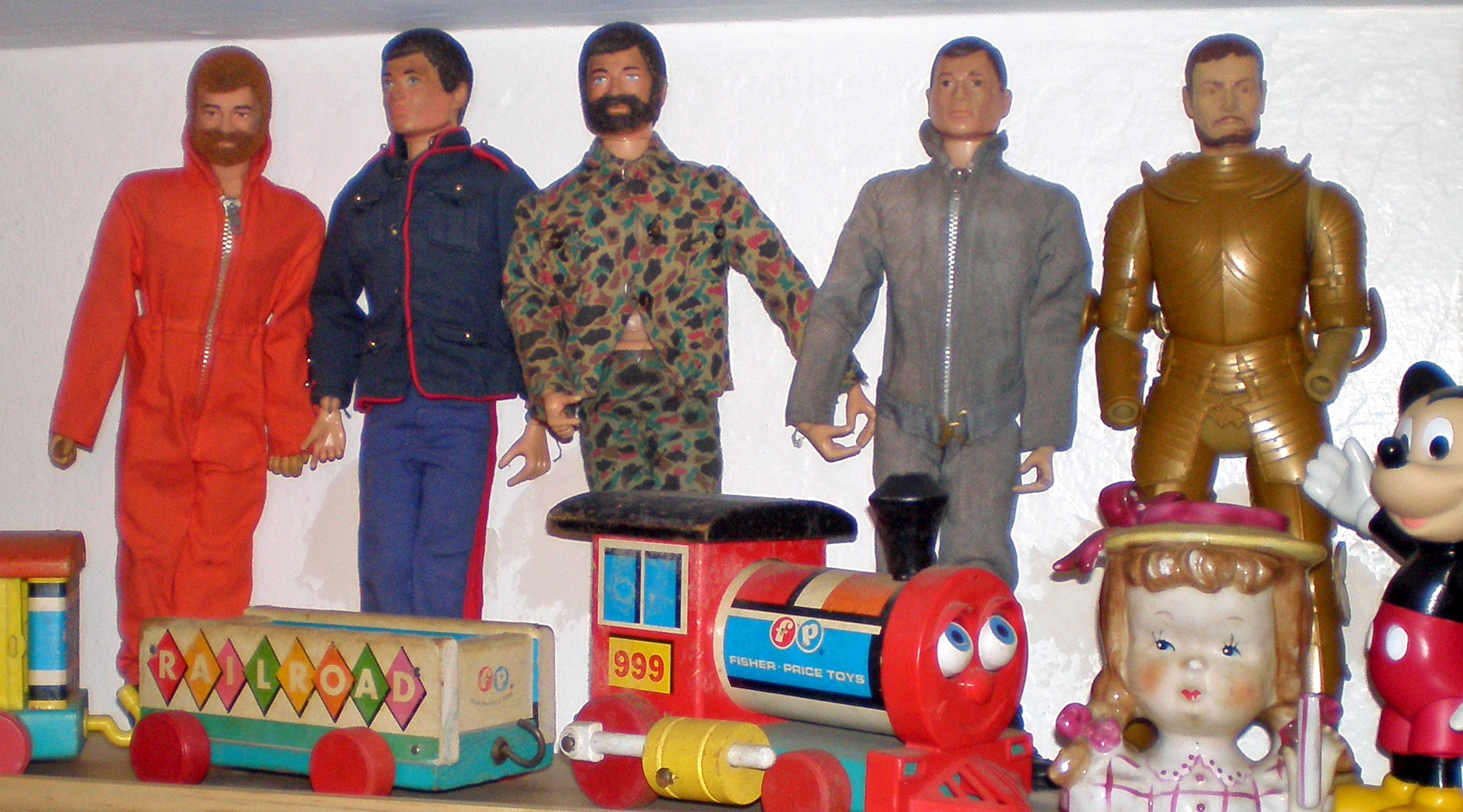 Highlights from the Wikipedia G.I. Joe Timeline:
1943 - In successfully delivering an important message during WWII, a pigeon named G.I. Joe saved over 1,000 people in Italy.
1945 - "The Story of G.I. Joe" was a hit movie. Directed by William Wellman and staring Burgess Meredith, the film tells the story of famed war correspondent Ernie Pyle (played by Meredith) and the 18th Infantry Battalion, Company C during the Battle of Monte Cassino, and as they moved north through Italy during World War II.
1960-1962 - Stan Weston, toy creator, took the idea of a soldier action figure to Don Levine at Hasbo. Hasbro thought a doll for boys wouldn't sell, and so termed G.I Joe as an "action figure".
1964 - The first G.I. Joe Action Figures were sold and quickly became a huge success. The original G.I. Joe was 12 inches tall and had full articulation of his wrists, elbows, shoulders, hip, knees, ankles, waist, and neck.. He also had a huge supply of accessories available.
The 12-inch G.I. Joe concept was licensed to several countries:

UK - the Palitoy toy company issued a GI Joe based action figure called "Action Man"
Spain - Geyper issued a GI Joe based action figure called "Geyperman"
Germany - German kids grew up with the GI Joe styled "Action Team"
France - French children played with the "Group Action Joe"
1966 - Soldiers of international armed forces joined the G.I. Joe line up, and Hasbro decided that the entire toy line would be named G.I. Joe.
1967 - G.I. Joe talking figures were introduced. Around this time the only full-sized female G.I. Joe action figure was produced - a nurse. It was not a success, the first real mis-step of the line.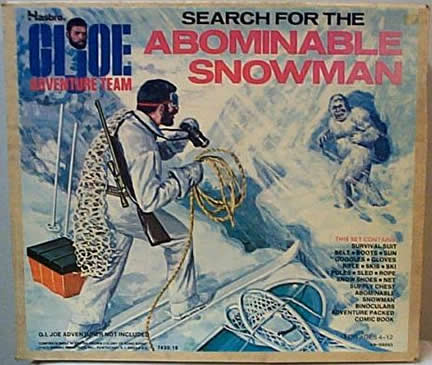 1970 - In light of growing controversy over the Vietnam War, Hasbro gave the G.I. Joe line a new mission and new logo. G.I. Joe became the leader of the "Adventure Team", complete with James Bond inspired spy-like accessories. The look of the doll was also changed, adding lifelike hair and a flocked beard to further distance itself from the soldier version. A retooled black G.I. Joe was also introduced around this time.
1974 - Kung Fu fever hit in the United States, so G.I. Joe started to be produced with a "kung fu grip." Joe's hands were changed to a soft plastic. His fingers could curl and better grip objects.
1975 - After failing to get the rights to the Six Million Dollar Man, Hasbo issued a bionic action figure named Mike Power, Atomic Man, who sold over a million figures, and a Superhero, Bulletman. Both figures did not sit well with the rest of adventure team. In 1976, The Intruders, a line of outer space arch rivals, was introduced.
1977 - The petroleum crisis directly affected G.I. Joes. Since the toy was produced with plastic and petroleum is a major component in the manufacture of plastic, the cost of producing the toy rose substantially, and after a failed attempt to produce a smaller version called "Super Joe", Hasbro decided to discontinue it although the licensed versions outside the US continued for a while.
1982 - New G.I. Joe figures appeared that were downsized to about the size of the popular Star Wars action figures. The "Adventure Team" idea was modified and combined with the original military theme of the early action figures. This was the beginning of the 1980s G.I. Joe frenzy that would eventually lead to the production of posters, t-shirts, video games, board games, kites, animated movies, and even a cartoon series based on the characters.
1985 - Both "Toy & Lamp" and "Hobby World" magazines ranked G.I. Joe as the top-selling American toy.
1991 - G.I. Joe 12 inch figures were re-introduced as part of an exclusive contract with Target retail stores.
1997 - The original G.I. Joe returned via the G.I. JOE MASTERPIECE EDITION, a unique book-and-figure product.
2000 - A Navajo Code Talker was introduced, the first G.I. Joe talking figure since the 1970s.
2001 - G.I. Joe honored the events of the 1941 attack on Pearl Harbor by releasing a line of Pearl Harbor figures.
2001 - New 3-3/4" G.I. Joes were released under various themes including Spy Troops and Valor vs. Venom.
2004 - A direct-to-DVD feature film debuted, as well as a new trading card game based on the G.I. Joe vs. Cobra storyline.
2005 - A new size to the G.I. Joe team with a new line called , which is in no way related to the quality management program Six Sigma. These new larger figures are based out of the storyline that started in 1982, but are in a larger scale and will be accompanied by an Anime series made by Japanese animation house GONZO. The previous 12" and 3 3/4" lines were scheduled to go on hiatus near the middle of the year and replaced by Sigma 6. The 3 3/4" line resumed production after a very brief hiatus but is now sold exclusively on a direct-to-consumer basis, through Hasbro's website and select Internet retailers.
"Real American Heroes"
G.I. Joe has honored a few "Real American Heroes" with the creation of a G.I. Joe action figure in their likeness.
These Real American Heroes include: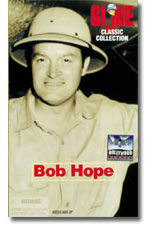 Buzz Aldrin
Dwight D. Eisenhower
Bob Hope
Douglas MacArthur
George Patton
Colin Powell
Ernie Pyle
Theodore Roosevelt
George Washington
Ted Williams
A couple of great books about G.I.Joe: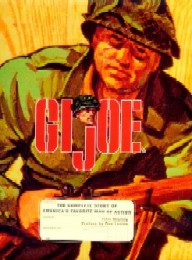 G.I. Joe - The Complete Story of America's Favorite Man of Action
by John Michlig
I am really excited to have just received a copy of this wonderful book filled with vivid storytelling and tons of high quality images. Mr. Michlig has created a rich narrative that even non-G.I. Joe devotees will find interesting.
A detailed and informative story of the creation of G.I. Joe. From initial concept and design to the quest for historical accuracy in manufacturing. Insite into the brilliant new marketing strategies, including G.I. Joe tie-ins to comic books, clubs and international advertising.
This book is filled with the warm, human stories of the original designers, working together to create the action figures that would become a ubiquitous element of toy chests for more than 40 years.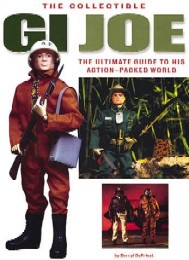 Collectible G.I. Joe: An Official Guide to His Action-Packed World
by Derryl Depriest
This is simply the best, most complete reference for G.I. Joe collectors. The book is filled with brilliant photographs of vintage G.I. Joe figures and equipment. Mr. Depriest weaves a witty storyline of America's Movable Fighting Man, covering in-depth details about exactly what figures and accessories were created, when were they originally sold and how to recognize the subtle differences between them.