---
---
Friends
Here are a few websites maintained by my family and friends. We share a common dream of freedom in our opinion and expression, learning from each other and communicating our knowledge and ideas through this new media, across all frontiers.
---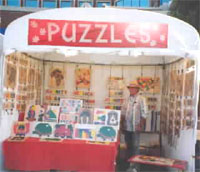 The Puzzle Man:
The Puzzle Man creates individually hand-crafted wooden puzzles using highest quality, furniture grade plywood domestically produced from replenishable forests. These are beautifully crafted hardwood jigsaw puzzlesthat are educational and fun.
---

Stacy:
Stacy Sutton offers proven and effective teaching methods that meet the needs of both horse and rider. She is highly dedicated to providing professional riding instruction, to both adults and children, that is educational, personally rewarding, and fun.
Oak Creek Farm is located in the Pleasant Valley Wine Region of the El Dorado County, California Sierra Foothills. Located just 30 minutes north of Folsom, and 15 minutes from downtown Placerville, the farm sits nestled in a small valley surrounded by beautiful heritage oaks and fragrant ponderosa pines.
http://www.vineyardoakdressage.com/
---

Steve:
Since 1974, selling homes and managing rental investments with Century 21, from just two offices in Cotati and Rohnert Park. I have 12 years experience in branch bank management, lending and customer service with Exchange Bank, Santa Rosa, Windsor and Cotati from 1961 to 1973 and spent 2 years with Sonoma State University as director of Student Financial Aid from 1973 to 1974.
Additional background includes designing and building our own home, managing a horse and cattle ranch, resident management of a 42-unit apartment building, and farm work as a youngster growing up in Salinas. I was raised in Spokane, Chicago and Salinas, CA.
http://www.stevejonesrealtor.com/
---

Music Matt:
Music Matt considers it a privilege to spend his time and energy sharing the beauty of his art with children every day. His family-friendly shows and down-to-earth approach to children has earned incredible support from his devoted fans.
Matt's music has earned accolades from parents and kids alike. His lyrics contain positive, uplifting messages that children and adults can relate to, and his music is lively and highly entertaining. Parents, this is music you won't mind letting your kids play over and over.
---

Gary & Julia:
Gary & Julia run The San Francisco Wine Trading Company. The best little wine shop in San Francisco. They always have a fantastic selection of fabulous wines at reasonable prices - (and, of course, a few legendary wines appropriately priced). If you want a great bottle of wine for a special occasion they can provide you with a options in a variety of price ranges.
San Francisco Wine Trading Company
---

Seanchan:
"All people can create. To make a better world, all people should create. If all people created, then objects would be thought of as having less value than the process of making them."
The Seanchan Show starts on October 3, 2006
Come and see wonderful folk do interesting things at Irelands 32 in San Francisco
Each person is doing their own thing. Anything they wish to do for 3 to 15 minutes
http://intellectualmonarchs.com/
---

Tracy:
Drum Magazine calls Tracy a "Tasty, well executed, groove-oriented drummer." I prefer the simplicity of saying that he is both a great drummer and a friend. Find out when he's playing and go listen to some fabulous drumming that is sensitive, subtle and yet full of a powerful confidence.