---
---
Major Matt Mason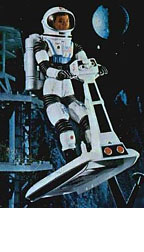 Christmas morning, 1969. I was five years old. NASA's Apollo program was in full swing, and I, like many young boys in America, dreamed of being an astronaut and walking on the moon. Eyes wide in wonder I un-wrapped the large, colorful package that Santa had left under the tree. Major Matt Mason, Mattel's Man in Space, had landed in our home.
Major Matt Mason's "bend-able" rubber spacesuit was based on real NASA designs, and his removable helmet featured a working retractable visor. Although standing only 6 inches; tall, the white-suited Matt Mason was a very cool toy! Major Matt Mason had a space station, with blue-tinted radiation screens, and a flashing radar beacon. The Mattel Mission Space Team also had a huge number of accessories and fantastic vehicles for adventures throughout the Galaxy.
The first Major Matt Mason toys arrived on store shelves in 1966, in the midst of NASA's efforts to reach the moon. Mattel's timing was perfect. Simple, yet highly adaptable to the whims of our imagination, Major Matt Mason represented the aspirations of a generation, the dream of the Apollo missions, the dawn of our inevitable journey to the stars.
By the end of 1970, the dream was over. The Apollo program had faded from glory and Mattel had ceased production of the entire Space Mission Team. Major Matt Mason quickly fell into obscurity, becoming lost toys. Some 35 years later, with the rise of eBay and national Sci-Fi conventions, Major Matt Mason has once again become recognized as a very cool toy! He has captured the interest of both action figure collectors and those who fondly remember the short lived Apollo program and our successful first missions to the moon.
---
The Space Mission Team: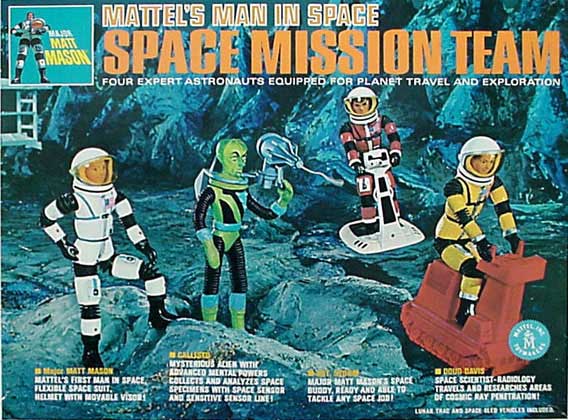 Sgt Storm(RED)
"Major Matt Mason's Space Buddy, Sgt Storm...Ready and able to tackle any space job on his cat trac."

Doug Davis(YELLOW)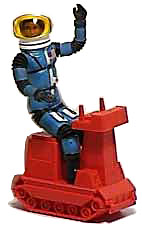 "Major Matt Mason's Space Buddy, Doug Davis, Space Scientist-Radiology...Rides his lunar trac- Researches areas of cosmic ray penetration."

Jeff Long(BLUE)
"Major Matt Mason's Space Buddy, Jeff Long, Space Scientist-Rocketry...Rides his lunar trac- Searches for rocket launch sites."

Callisto(ALIEN)
Callisto was Major Matt Mason's friend from Jupiter. "Callisto's transparent skull reveals a highly developed humanoid brain endowed with superior mental powers."
---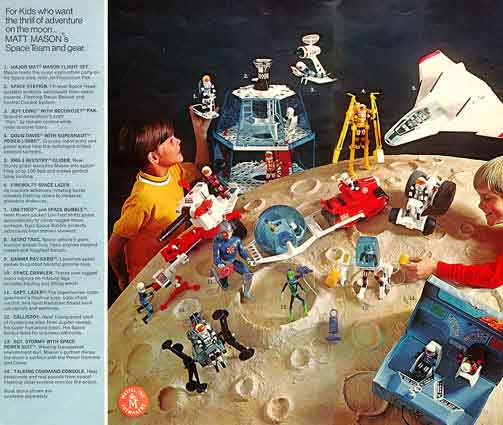 ---
Here are links to a few good Major Matt Mason sites:

Randy R. Havener's Major Matt Mason site:
http://www.snowcrest.net/fox/mm.html
John Eaton's Major Matt Mason site:
http://www.wildtoys.com/MMMPage/index.asp
---
Mattel's Man in Space Program

Mattel's first man in space was Major Matt Mason. Major Matt Mason met the challenge of the moon with special space equipment, designed by Mattel, adapted from official space program designs.

In space, all equipment must help Mattel's Astronauts deal with violent temperature extremes, radiation, meteorites and strange, rough terrain. Mattel's Astronauts must face unknown dangers beyond the moon, too! Now, Major Matt Mason need not face these dangers alone - he has a space buddies, Sgt. Storm, Doug Davis,Jeff Long,and Callisto, the Mission Space Team's friend from Jupiter.

The Mattel Mission Space Team is ready and able to cope with any space task or fierce danger. Mattel's new Firebolt Space Cannon is space-engineered for all Mattel Astronauts. It moves forward with gigantic force - the barrel blazing beams.

The Mission Space Team also has a new mighty, mobile planet explorer with universal astro-foam traction wheels. It's called the AstroTrac - and it is designed to conquer any difficult space terrain.

Be sure to see all the interesting space equipment now available for Mattel's men in space. With the Space Station, inflatable Space Shelter, and the amazing Space Crawler, designed to do many jobs, the SatelliteLaunch Pak - and many more - life in space is exciting and fun.

Join Major Matt Mason, Sgt. Storm, and the entire Mission Space Team in a great adventure in space.

(available wherever Mattel's Major Matt Mason Toys are sold)
---
SPACE TOYS OF THE 60'S by James H. Gillam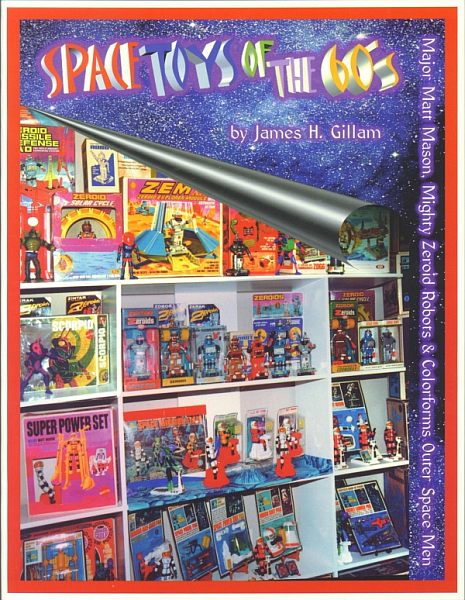 A Collector's Guide to Major Matt Mason, Mighty Zeroid Robots and Colorforms Outer Space Men. Veteran collector and author James Gillam details the story of toys inspired by NASA ventures into space.
SPACE TOYS OF THE 60's could have been the Major Matt Mason collector's dream come true. However, be warned that the quality of the paper and the image quality of the photos is not very good. I wish the publisher had done a much better job and creating some high quality images that I would want to look at over and over again. Looking at these pictures, as a substitute for expanding my collection, is not fullfilling.
All in all though, being the ONLY book out there right now with any information on Major Matt Mason, this is a pretty good book. At leaset it has photos of all of Mattel's Major Matt Mason - Man in Space figures, vehicles and buildings with detailed descriptions, construction and instruction sheets, product catalogs, collector's reminiscences, prototype information, and company histories.
If you can find a used copy for around $5 it's worth adding to the library as a reference.